Knee Down Training
Our knee down school provides motorbike riders of all abilities to learn how to get your knee down in a safe controlled environment.
Our knee down training school in London provides people who want to learn how to get their kneedown with a day of fantastic knee down tips and knee down techniques showing them how to lean a bike over to such an extent that they are able to get their knee-down on the floor. Most true bikers aspire to be able to get their knee down whilst cornering their bikes, but are too scared, (or probably more so too sensible) to try attempting to get their knee down on their own bikes, on a public road.
Unlike four-wheeled vehicles, bikes are unforgiving when traction is lost. For this reason, most bikers never experiment with trying to get their knee down (with good reason), but are also unable to teach themselves about the limits of their bikes, or how to cope with an emergency situation whilst cornering.
Whilst the majority of people who attend our knee down school, do so becasue they want to leran how to get their knee down, they will also learn how traction limits and handling abilities of modern bikes is often much greater than the average rider assumes. By teaching riders to get theiry knee down, they also learn where this limit lies and how to deal with emergency situations. People who attend the kneedown school will also find valuable improvements in their general road riding safety are achieved, and for those of you who are track day enthusiats, you will find that your times on the track will improve as a result of the knee down training received.
Training days at Knee-Down School are safe and informative, and contribute to improved rider skill, but they are also intended to be fun. We run a variety of training days, covering various aspects of bike handling and skill. No particular skill level is required to attend a kneedown training day, however, you will be required to have a valid full (unrestricted) UK Motorcycle licence (Category A).
Our Knee Down Training Bike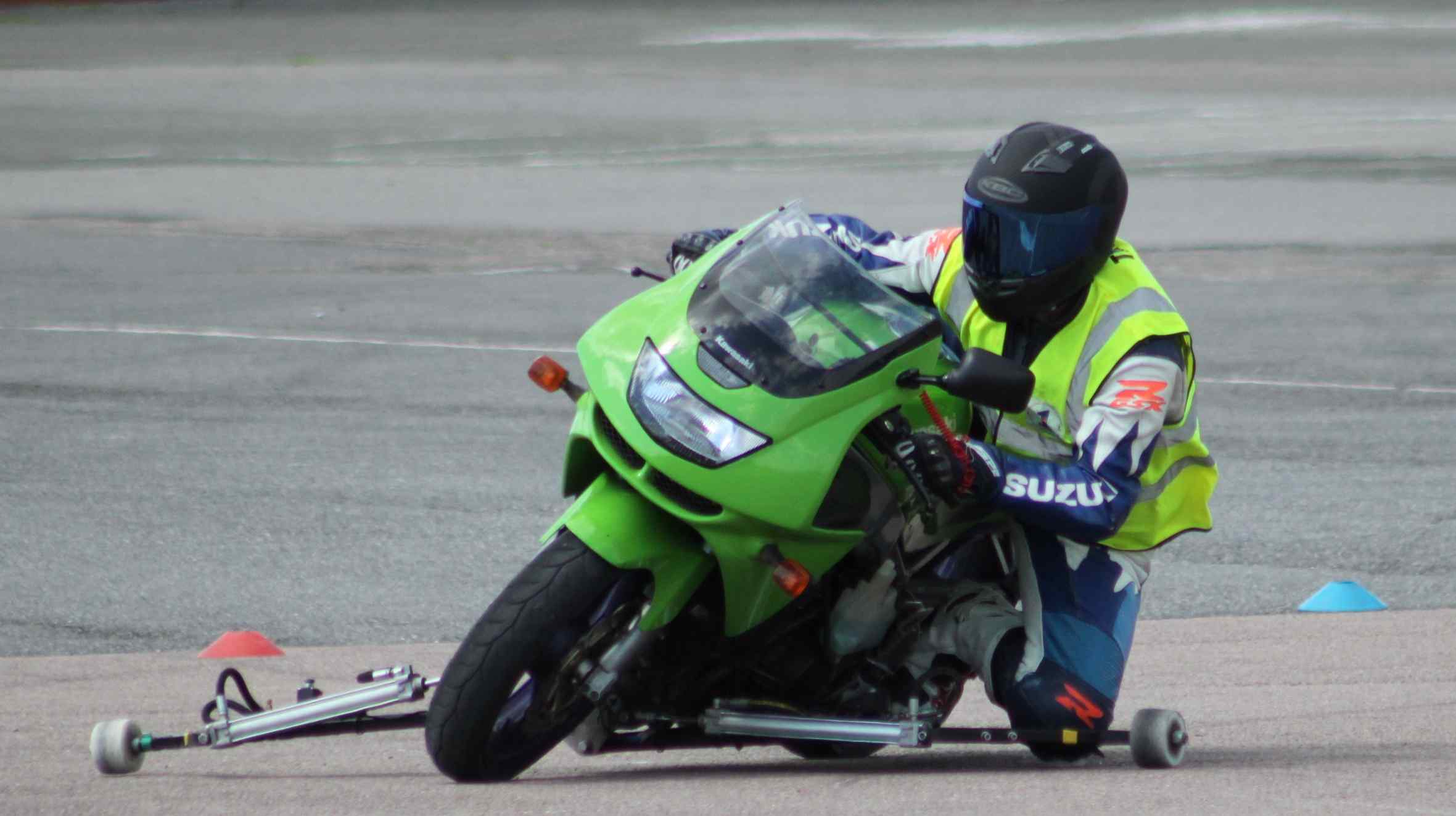 The knee-down training Bike we use is a Kawasaki ZX6R (600cc). We chose this kneedown training bike, as it's easy to ride and manoeuvre, and riders used to smaller bikes or large sports bikes will be equally at home on our ZX6R knee down bike.
The kneedown training school bike is absolutely standard, with standard road tyres, standard tyre pressures and standard suspension.. However, we have designed unique outriggers which fit onto our knee down school bikes to provide a maximum level of safety without affecting the handling of the bike.
The outriggers have a novel hydraulic AND pneumatic operating system that allows unrestricted movement of the knee down bike, and with hard nylon wheels it provides absolutely no additional traction. However, should the unexpected occur, the outriggers will prevent high-siding by limiting the rate of change of angle, and wil alsol prevent the bike from landing on the ground if it should slide away from underneath you.
Riders of the knee down bike will all agree that apart from the noise generated by the nylon wheels, the kneedown training bike handles and feels as if the outriggers were not there at all. Unless the rider loses control of the knee down bike, the outriggers are entirely passive. This safety technology is completely unique to our knee down training school, and unrivalled by any other training school in the country, meaning that we are able to teach you knee down techniques in the safest and most realistic environment.
Kneedown School Itinerary
A typical kneedown school will usually follow the following itinerary:
8:45am: Meet and greet. Documents checked & liability disclaimers signed by all riders.

9am: Course Starts:

Introduction
Safety Presentation
Short Theory Session

10am: Practical technique practice starts. Our instructors will guide you through a series of steps and techniques (one step at a time). Once our instructors will work with you to perfect each technique, stopping you at intervals to provide advice and tips. Once the instructors are satisfied you have grasped these techniques, they will then encourage you to put these together as one, and watch you grind your slider away.

12:30pm: Lunch Break

1pm: Practice becomes perfection! We are confident that at least half the group will have had their knee down before the lunch break, and the afternoon will be left for those people to perfect their new found riding skills. For those who haven't quite mangaed to master the technique yet, our instructors will continue to work more closely with you , adapting techniques to cater to your individual riding style, which in turn will hopefully lead to more satisfying results.

3pm: The day finishes with satisfied faces and lots of scrapped up sliders!
How do I book myself onto a Kneedown Course?
There are 3 ways that you can book yourself onto a Knee down course:
You can book over the phone by calling 020 8597 7333 or 0800 848 8418
You can come into our offices to pay cash. (If you would ike to take this option, please contact our office on 020 8597 7333 or 0800 848 8418 before making your journey, so that we can ensure someone will be present to greet you).
Price List