Wheelie Training
Our Wheelie School in London follows our Kneedown School ethos of providing an exhilarating day's training of learning how to do wheelie's, whilst providing an unparalleled level of safety. We believe that in providing this type of wheelie training, we teach bikers how to handle the power of the machines in carefully controlled fashion. By teaching on an off road facility, and with multiple levels of safety, we make the process of learning how to wheelie as safe as humanly possible, and help to take experimentation off the road and away from the associated dangers. Even the police can't disagree that we're doing a good thing!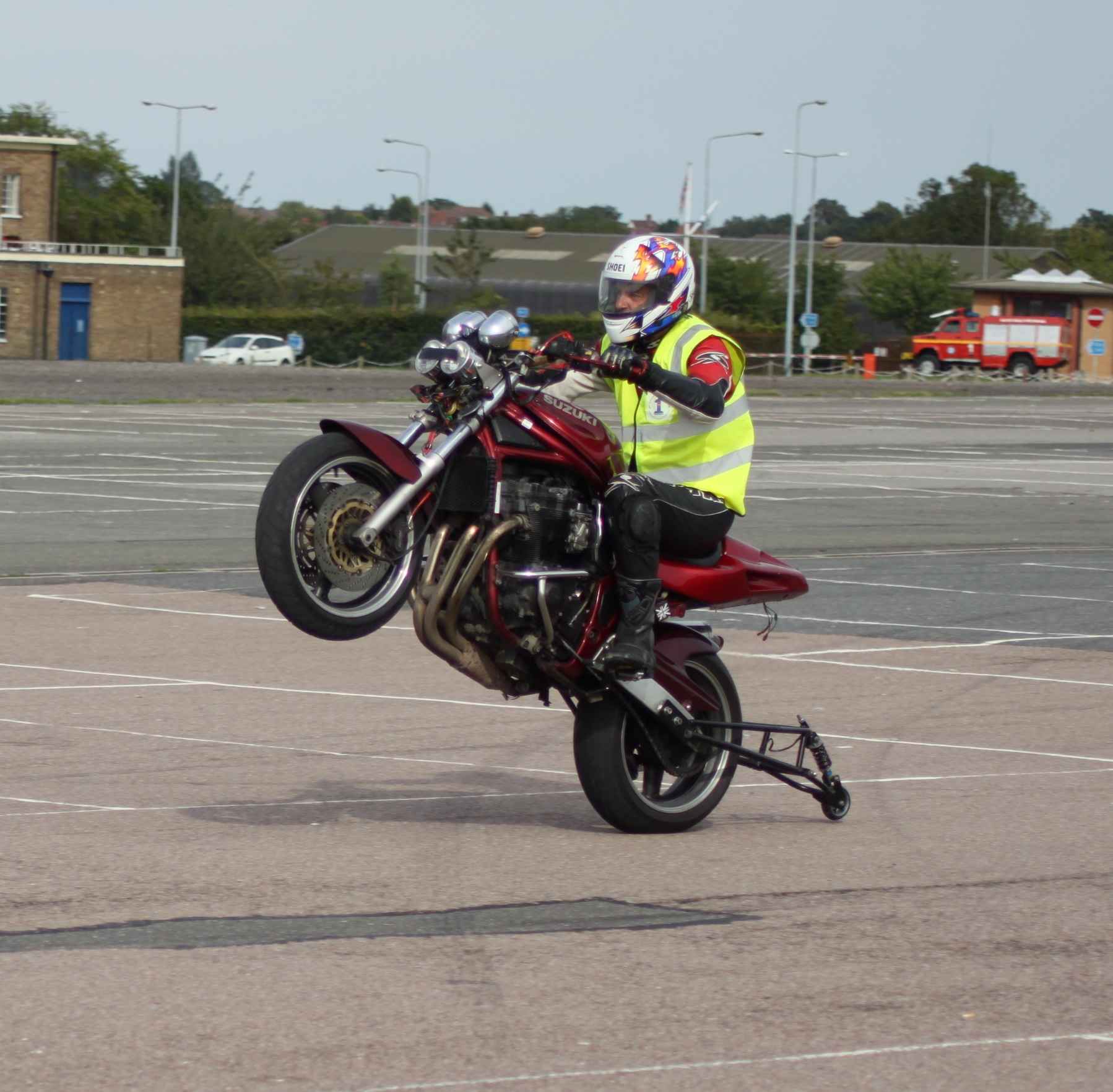 Our training days at our London Wheelie School are informative, and contribute to improved rider skill, but they are also intended to be fun. No particular prior skill level is required to attend the wheelie school training day, however, you will be required to have a valid full (unrestricted) UK Motorcycle licence (Category A).
100% Success Rate
We are proud to say that we have a 100% succes rate teaching people how to wheelie. That means we can virtually guarantee that you will manage to get your wheel in the air. We put this fantastic succes rate down to the confidence our students have with our expert tuition, and the confidence people have with the safetey features installed on our wheelie bikes.
Wheelie School Safetey
We understand that people who attend our wheelie school in London want to learn how to pull wheelie's, but above everything, we concentrate on teaching you how to do wheelie's safely! Many people try to experiment and try learning to do wheelie's on their own bikes, on public roads, which is not only dangerous, but also illegal! We use a specially adapted bike which has safety features unparrelled by any other wheelie school in the country.
Our Wheelie School Bikes
Our wheelie school training bikes are Suzuki 1200cc Bandit's. This is a great wheelie training bike, as it's easy to ride and manoeuvre, despite it's large engine capacity. The bike itself is absolutely standard, and is furnished with standard road tyres. However, we have designed and built a rear stabiliser/protection device that has no less than 4 separate safety features to protect the rider against excessively high wheelies. This doesn't affect the handling of the bike, but provides a level of safety - both electronic and mechanical - not matched by any other wheelie school in the country.
Learn to Wheelie in safety 1 Stop Instruction Wheelie School. Again, we use a custom designed modified motorbikes, developed by specialist motorcycle engineers, which we believe are far safer and more refined than anything used by other wheelie and stunt schools: Most schools employ either a fixed skid - which hits the ground hard when the maximum angle reached - quite a shock for the first time wheelie-king; or alternatively, a rod-mounted switch, which cuts the ignition. The ignition-cut techique is a good way to control wheelies, but under wheelie school conditions, it requires constant adjustment as riders of different weights use the bike. If the instructor fails to adjust correctly, a student can easily end up pulling a 120 degree wheelie with disastrous consequences.
Our novel system allows you to learn how to wheelie without requiring adjustment between riders of different weights, and provides much greater control of angle-limit. Our bike has no fewer than three anti-flip devices fitted to the bike, and, unlike other schools, we employ soft cut-outs which allow greater control of the bike when the limit switch operates. This prevents the bike coming crashing down to earth!
Safety Functions of our wheelie training bike include:
Switchable Low Angle-activated soft-cut out device (later in the day, you can switch this off, to achieve higher wheelies)
Fixed High-level soft cut-out - provided by a failsafe microswitch mounted on the rear trailing wheel
Mechanical Limiting device - provided by rear trailing wheel itself. This unit is sprung like a suspension strut, so it's a soft limitation device
Mechanical Hard Limit - achieved when the trailing wheel reaches the top of its suspension travel.
Wheelie School Itinerary
A typical kneedown school will usually follow the following itinerary:
8:45am: Meet and greet. Documents checked & liability disclaimers signed by all riders.

9am: Course Starts:

Introduction
Safety Presentation
Short Theory Session

10am: Practical technique practice starts. Our instructors will guide you through a series of steps and techniques (one by one). Once our instructors will work with you to perfect each technique, stopping you at intervals to provide advice and tips. Once the instructors are satisfied you have grasped these techniques, they will then encourage you to put these together as one, and watch you grind your slider away.

12:30pm: Lunch Break

1pm: Practice becomes perfection! We are confident that at least half the group will have had their knee down before the lunch break, and the afternoon will be left for those people to perfect their new found riding skills. For those who haven't quite mangaed to master the technique yet, our instructors will continue to work more closely with you , adapting techniques to cater to your individual riding style, which in turn will hopefully lead to more satisfying results.

3pm: The day finishes with satisfied faces and lots of scrapped up sliders!
How do I book myself onto a Kneedown Course?
There are 3 ways that you can book yourself onto a Knee down course:
You can book over the phone by calling 020 8597 7333 or 0800 848 8418
You can come into our offices to pay cash. (If you would ike to take this option, please contact our office on 020 8597 7333 or 0800 848 8418 before making your journey, so that we can ensure someone will be present to greet you).
Price List